The Motorcycle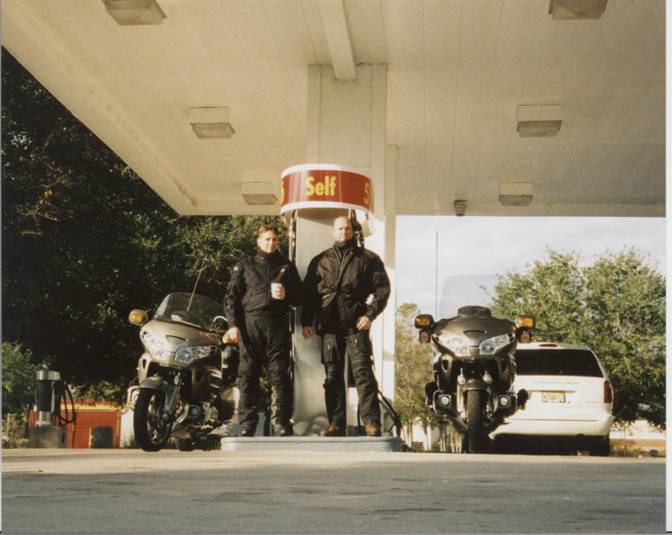 My motorcycle is a 2003 Honda Gold Wing Silver in color. I bought the Gold Wing in April of 2003. One of the reasons I bought a Gold Wing was so that I could attempt long distance ride. I only have a few accessories on the motorcycle which are Big Bike Parts Back Rest, Big Bike Parts Luggage Rack, Big Bike Parts Saddlebag and Trunk Bag Liners, Big Bike Parts Rear Speaker Kit, Big Bike Parts Coin Holder, Big Bike Parts Double Custom Fairing Pocket Covers Deluxe, Big Bike Parts Tank Pouch and the most important accessory is XM Radio. I installed XM Radio just before my SaddleSore 2000 attempt. It worked flawlessly and was a great piece of equipment to have along the ride. I really like the ability to listen to sports, news and weather when I get bored during the ride. It helps keep me alert. Being able to listen to the same station for as long as you want is also very nice.
The Preparation
I have been itchy to attempt another Iron butt endurance ride since I finished the 50CC in April. I wanted to try the Butt Burner Gold 1500 as I thought that is not an easy ride especially in the winter. It was about 2 weeks before the BBG attempt that I started to plan. I was going to attempt the ride alone but a week before the ride I spoke with a friend who is also an Iron Butt member, Bill Pearlman, and found out that he had the time and also wanted go on the ride. The next thing I needed to do was get the wife's permission which is the most important part of any ride.
I first made sure my motorcycle was ready to go. I had recently had serviced the Gold Wing and I had done a complete going over of the whole motorcycle so I was pretty sure it was ready to go.
I really feel that XM Radio is one of the most important accessories that I installed on my motorcycle. Listening to a radio really helps keep me alert when I get tired along the way. I listen to music a lot of the time but I also like to listen to the news, sports and talk radio some of the time. Trying to get AM radio stations along the way is difficult much of the time and even if I am able to find an AM station it is usually something that I do not want to listen to. Only near big cities are there enough AM stations with a strong signal that carry sports, news and weather. With XM Radio I can listen to many sports stations like ESPN and get current news and weather from stations like CNN and the Weather Channel. Being able to set the station on a preset and not have to search for stations as I travel will be a big help.
For this ride I mounted my hand held GPS to track our mileage to be sure we covered 1500 miles in 24 hours.
I have a pretty extensive check list of items to take and check before I take off on a trip. Some of the items on list are common sense like my wallet and cell phone. By using a check list it means I have a lesser chance of forgetting something.
I thought about how I should prepare myself for the ride. What could or should I do to make my body ready for this attempt. For 3 days prior my departure I increased my use of vitamins like calcium, magnesium and vitamin E to help guard against muscle cramps. I also drank lots of water leading up to my scheduled time to leave to be sure my body was well hydrated.
I am going to where my new Joe Rocket Alter Ego pants and Jacket to see if they would provide the protection from both weather and in case of an accident. The items worked well and kept me warm even though it was 46 degrees at some points of the ride.
The Ride
We had decided to meet at a gas station for the starting point. This is also our ending point. Our BBG attempt started on December 16, 2004 at 4:00am. I had prepped the bike and packed an extra set of clothes just in case something happened along the way. I went over the motorcycle a few more times as I am always rechecking things.
I wanted to get to bed by 10:00pm so that I could get at least 5 hours of sleep because I had to get up a 3:00am to be at the starting point by 4:00am. Of course this did not happen because when you have a family you always have things going on. I finally did get to bed around 12:00pm. I had the alarm set for 3:00am so I could get up take a quick shower and have something to eat before I left around 3:30am.
I was running a little late as I am always checking and rechecking things and I had to put on cold weather gear as it was about 50 degrees outside. I reached the starting point at the gas station at 3:55am. Bill was there waiting since 3:30am I think. He only lives a mile or so from the starting point.
Our route was to take I-595 to I-95 and up the Florida east coast to I-295 which is the loop around Jacksonville. Then to I-10 and across the Florida Panhandle to the Alabama state line. Then we would turn around and take I-10 to I-75 headed down the center of the state. When we reach the Florida Turnpike at Wildwood we take it to Orlando. At Orlando we then take I-4 to Tampa and I-75. Our route then is to take I-75 down the west coast of Florida and across the state back to our starting point.
We discussed our route and I had a cup of coffee. The gas station had the pay at the pump capability and the ability to provide the receipt that we needed to document our starting time. I filled up with gas, got my receipt and made my log entry. It was 4:08am and I was ready to go. We got on I-595 heeded to I-95 about 6 miles away.
It was a little cool out but we were able to make good time getting out of the congested area before the morning rush. We arrived at our first gas stop which was only 156 miles as we wanted to get our gas mileage. We did not rush the stop. We bought gas got our receipts and made the log entries. The stop lasted about 20 minutes and we were off headed up I-95. We ran into a little rain and it got a little colder as we headed north.
When we reached Jacksonville it was 46 degrees and day break had just occurred. This is where we pick up I-10 and head across the Florida Panhandle. It is about 350 miles across the panhandle and it is an easy ride. We came upon the bridge that was washed out just east of Pensacola and found both west bound lanes open with no back up. We had to go into Alabama to the first exit to be sure we would cover 1500 miles.
We arrived at our farthest point which was also a gas stop in Robertsdale, AL. We bought gas had a snack and started headed back across I-10. This time when we came upon the bridge east of Pensacola that had been washed out we had a big back up. It took an extra 30 minutes to get across the bridge as only one lane was open and the speed was down to 30 mph because they had used metal grating to make temporary repairs to the bridge. This concerned us a little because we where using up our time.
After we crossed the bridge it was smooth sailing until we reached Gainesville, FL. We had a gas stop in Gainesville on I-75. We made the stop and again did not rush as we felt time was okay. We got back on I-75 headed south towards Orlando. About 1 mile down the road all traffic was stopped. We at first could not see any problems and did not know why the traffic had stopped. It was around 9:00pm at this point. We turned off the motors after about 5 minutes as we new it was going to be a while before we were able to go. Finally we heard what was holding up traffic. A person was on the overpass ahead threatening to jump and commit suicide. It took the police about 30 minutes to corner the person and get the traffic flowing again. We were now a little worried as we had not been rushing our stops.
When we reached Orlando and I-4 we headed west towards Tampa. There was a lot of construction on I-4 most of the way to Tampa and this also added to our time. Now we were really worried about completing the ride in the allotted 24 hours. It was almost midnight when we got to I-75 and headed south. It is a 3 hour ride in the best of times during the day. We only had 4 hours left and needed to make one more stop.
We decided to stop near Fort Meyers for gas and it was around 1:20am. We had to go a ways off the exit to find an open gas station. This added a little more time to our ride. We filled up for the last time and headed back to I-75 and the ride across Alligator Alley which is also I-75. You have to be careful at night crossing the Alley as it goes through the Everglades and there are many animals in the road way at night. At this point I started feeling better about our time as it looked like we would arrive at the ending point around 3:30am. Thirty minutes to spare.
We did arrive at 3:26am at the end point. I checked the GPS and it had a reading of 1505 miles covered. Wow, just enough. We were glad we made the cut over to Orlando and back to Tampa to add a few more miles.
Neither of us felt very tired after the ride. We hung out for 30 minutes discussing the ride and then I headed home for a shower and a little food. I got home and the wife and kids were asleep. I woke up my wife and she congratulated me on my accomplishment. I took a shower and had a snack and went to bed as now I was a little tired.