Rallying, I Love It!
---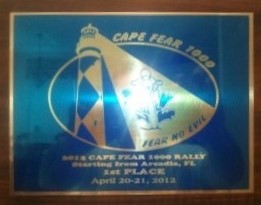 I started riding in rally's in 2005 and by 2007 I had ridden in a few smaller rally's and I had submitted my application for the 2007 Iron Butt Rally but I had not really been that involved in rallying.
Here is how I got into competitive rallying. In March 2007 I was attending the IBA Pizza Party in Jacksonville, FL and I was talking with a group of riders ( John, Richard, and others ) and we were discussing rallying and Jim Owens and other top riders. The Cape Fear 1000 Rally came up in the discussion and that everyone thought Jim would win in the upcoming rally in April. Well, big mouth me, piped up saying I thought anyone could do well in a rally if they really wanted to. I also said I could beat Jim Owen in the Cape Fear 1000 Rally. Of course I knew the rally was closed to registration and I could not get in.

Someone spoke up and said they could ask Jim Bain if I could still ride in the rally and a week later I was in the 2007 Cape Fear Rally starting in Sarasota, FL.
I had a few weeks to prepare and get up to rally speed and get the wing rally ready. I started looking over the 2006 Cape Fear Rally information and information from other rally's. I had done a few small none competitive rally's in the past so I had no real experience of what to expect. On April 18, 2007 we received the rally bonus pack by email and I started mapping the bonus locations in Streets & Trips and Mapsource. One good thing I had going for me was I had a lot of experience with Streets & Trips, Mapsource and GPS's as I had been using them for years.
Richard Buber and I decided to share a room at the rally start location and we met up Thursday afternoon. Both of us had been working on routes since the day before and by that evening we had a couple routes that we were comfortable with. We then decided to ride the rally together.
Richard and I rode a hard rally and finished in Wilmington about an hour before the rally window closed. We got scored and waited for the banquet and results. I felt I had done well but I had no idea where I had finished. This was the last year of the Cape Fear Rally where riders from all starting locations were competing as one group.
Jim started reading the results starting with the last place finisher. There were 89 riders in 2007 so getting through the results was going to take a little while. As Jim read the results and gave the point value of each finisher I was surprised that I had done so well. Then Jim said if he had not called your name yet to stand up as these were the top 10 finishers. Well my name had not yet been called so I stood up. Jim called my name for 7th place and I was feeling pretty good as I had done well but I also beat Jim Owen's as I said I could. You can see the results here, Cape Fear 2007.
---
I have been lucky to have owned the top motorcycles that are ridden in the Iron Butt Rally. I have ridden Gold Wings in 2009, 2013 and 2015 and BMW RT 2017 and a BMW GSA in 2019. I am hoping to ride a Yamaha FJR in 2021. Having ridden all of these motorcycles gives me some idea as to what kind of motorcycle really works best in a 11 day rally. The first thing I will tell you though it is not the motorcycle that drives you to the finish, it is the rider. Having a good reliable motorcycle to rides does help.
---
I rode in the 2013 Iron Butt Rally and was lucky to finish 9th against some of the worlds top riders. Click here for my ride report.
---
Check out my
ride report for my leg 2 of the 2009 Iron Butt Rally, you can read it here. Leg 2 ride report.

---
Good planning and some good luck has allowed me to be able to compete at a high level against the top rally riders in the world. I have had the opportunity to compete in the toughest motorcycle endurance rally in the world, the Iron Butt Rally, in 2009. I was selected for the 2011 IBR rally but was unable to ride that year. I am entered for the 2013 IBR and hope to be ready to ride by the end of this year.
---
Here are some of the steps and task I do when getting ready for a rally. This is my Iron Butt Rally process for Sunday before we receive the bonus list.
Riding Clothes Laid Out For Monday Start
Wallet And Credit Cards Stored In Riding Clothes
Money / Credit Card Stashed On Motorcycle For Emergency's
Wake Up Call And Alarm Set For 6:00 AM Monday
Hydration System Cleaned And Ready
Cell Phone Charger Ready
Motorcycle Keys Ready With Backup Key Stored On Motorcycle
Route Planning Work Environment Setup With Desk And Chair
Note Pad And Pencils Ready
Water And Snacks For Route Planning
GPS's Cleaned Out - Remove All Unneeded Waypoints And Routes
GPS Cables Ready to Connect GPS To Computer And Tested
Computer Turned On And Connected To Hotel Network
Email Tested – Send and Receive
Excel Started With Bonus Formatting And Route Planning Spreadsheet Opened
Mapping Program ( Basecamp and Streets & Trips ) Started And Old Routes And Data Removed
Leg 1 Route Started – Start Hotel To First Checkpoint Hotel - 997 Miles 10 Hours
---
You want to win or at least finish at the top, check out how I approach rally's. I have a structured process to rally and route planning and it has worked well for me. I do continue to improve how I approach rallies so reach out if you want to know if I have changed any part of my process. Click here for a write up on how I approach competing rally's.
---
Here is a list of major rallies I have ridden in over the years.
---
Riding In A Rally
The day I sign up for a rally is the day I start preparing for the rally. I take rallying seriously and always try to be competitive. I do a lot of research on the past running of the rally and reach out to past competitors for ideas on how to approach the rally. I will review previous bonuses and the winning route if available and try to see if I can come up with the same winning route that won the rally.
I start preparing my motorcycle also on the day I sign up for the rally. I make a list of items I will need and service that I will need to do before the rally. I then set dates that all of this needs to be completed by. I try and keep my Gold Wing in "ready to ride" mode all of the time so normally I just need to check the tires and change the oil.
---
2009 Iron Butt Rally
I rode in the 2009 Iron Butt Rally had a great time. Here is my leg 2 route I had planned. I did have to make a lot of changes on during the leg.
Click here to see my 2009 IBR leg 2 ride report.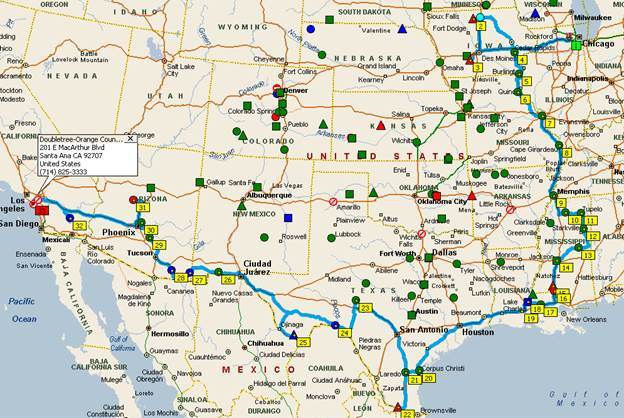 2009 Iron Butt Rally Leg 2
---
2012 Cape Fear Rally
I always make a plan when I enter a rally and I try to follow my plan and route during the rally if possible. I have found this approach improves my routing skills and where I finish in a rally. Here is my route for the 2012
Cape Fear 1000 Rally which I won.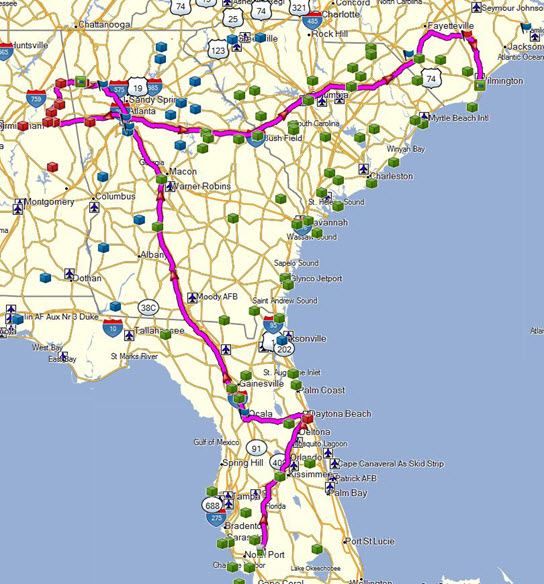 2012 Cape Fear Rally Winning Route
---
2013 Iron Butt Rally Leg 1 Route
---
2015 Cape Fear Rally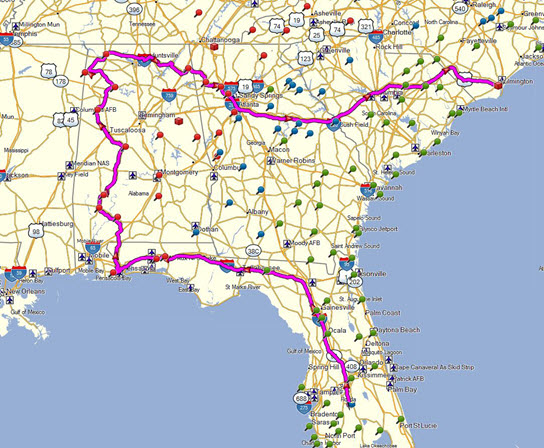 2015 Cape Fear Rally Winning Route
---
My Rally Tools
I have a couple spreadsheets that I use to lay the ground work and parameters before I plan a route. These spreadsheets provide me some guidance on how many hours and miles I can ride in a rally, how many points I need to target in a rally and automate the formatting of the bonuses for importing into my mapping programs.
Here are some screen shots of the spreadsheets. Click on the images for a larger versions.

Rally Hours And Miles Availability Planning
---

Rally Points Required Planning
---

Bonus Formatting Into GPX File To Import Into Mapping Programs
If you want a copy of the spreadsheets send me an email and I will email it out to you.
---
Miles Ridden
725,000
---
BBG Count
1500+ Miles In 24 Hours
60
---
BBG Miles
92,070
---
IBR Miles
Iron Butt Rally
49,700
---
Next Ride
BBG
---
Just Completed
I completed my 40th BBG on February 25, 2017.
I just finished the 2015 Iron Butt Rally, my third IBR. Click her for the daily reports and the final standings.
Rob and I won the 2015 Cape Fear Rally starting in Florida
I attended the IBA National Meet in August in Denver and had a great time
I completed a BBG Quattro Gold on June 17, 2014. You can find out more info about the ride on Tim Masterson's blog, click here
I finished 9th in the 2013 Iron Butt Rally in July. Read my IBR ride report, click here
I rode in the 2013 Cape Fear Rally in April and finished 5th place
I just returned from a ride to Alaska. I rode from Key West, FL to Fairbanks, AK and back. See my photos on my photos webpage
I competed in the 2012 Cape Fear 1000 Rally and took first place for the Arcadia starters
---
Ride Reports
---
Farkle Reports